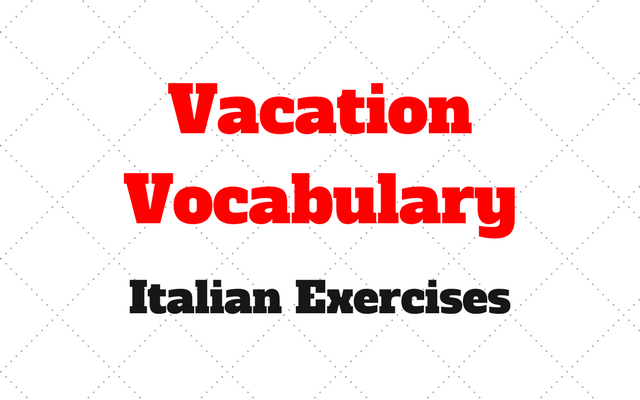 Time to take a break? What about a nice vacation in Italy? Let's explore together some basic vocabulary to get ready! Prepariamo la valigia e… Buone Vacanze!
1) Connect each sentence with its location!
A

. All'aeroporto
???
Abbiamo prenotato una stanza doppia.

B

. Al bed & breakfast
???
Per noi, una grigliata di carne mista e un contorno di patate!

C

. Al bar
???
Vorrei un caffé espresso, per favore!

D

. Al ristorante
???
Il treno per Bologna è in partenza dal binario 2.

E

. Alla stazione dei treni
???
Mary, vuoi prendere tu i cereali?

F

. Per la strada
???
Ho un gran mal di testa, cosa mi consiglia?

G

. In farmacia
???
Il mio volo è in ritardo!

H

. Al supermercato
???
Scusi, sa dirmi come raggiungere via Roma?
2) Pick the word from the list to complete the sentences:
appartamento – ombrellone – turismo – viaggio – disdire – affittare – noleggio – camping
3) Let's build the sentences:
4) Translate to Italian: